Your Health is
PAHSCO's Mission
Strict production control and professional service
to meet customer's needs
Founded in 1977, Pacific Hospital Supply Co.,Ltd (PAHSCO) specializes in providing hospitals with disposable medical supplies, medical equipment and centralized medicinal gas piping systems. As evidence of our efforts, our facilities have obtained GMP, ISO 13485 certification and the majority of our products have received CE certification. The service we provide includes development design, production and selling. Today we have become an industry leader and a trusted partner to our health care industry customers while exporting different products to more than 80 countries and regions.
We pursue higher healthcare quality and offer customized service and reasonable pricing, more than common product development and production mode. PAHSCO has committed to provide quality high performance, more convenient, safe and reliable medical supplies in order to achieve the best results and improve the efficiency of caregivers.
Export products to several countries
High quality, high performance and more convenient
Values of Sincerity, Responsibility, and Professionalism
Compose PAHSCO's Core Competitiveness
Innovation drives the progress of a company, creates a virtuous cycle among the society, investors and employees and build a win-win scenario.

Sincerity
Increase long-term value based on honesty

Responsibility
Fulfill our CSR and share sustainable ideas

Professionalism
Secure customers' trust and competitive advantage

PAHSCO continues to invest in innovation and development
Through interchange with domestic and foreign customers, we understand the needs of users and the trend of products and markets. The core competitive advantage helps facilitate the product launch & delivery and expand the international markets. We effectively implement the measures of workplace safety and environmental protection to pave the way towards sustainable business model.
Organization
Good quality and lean manufacturing support the stable operation. Ethical, responsible and professional management facilitates the growth of the organization, cooperation and teamwork and equality to create a friendly, healthy and safe workplace.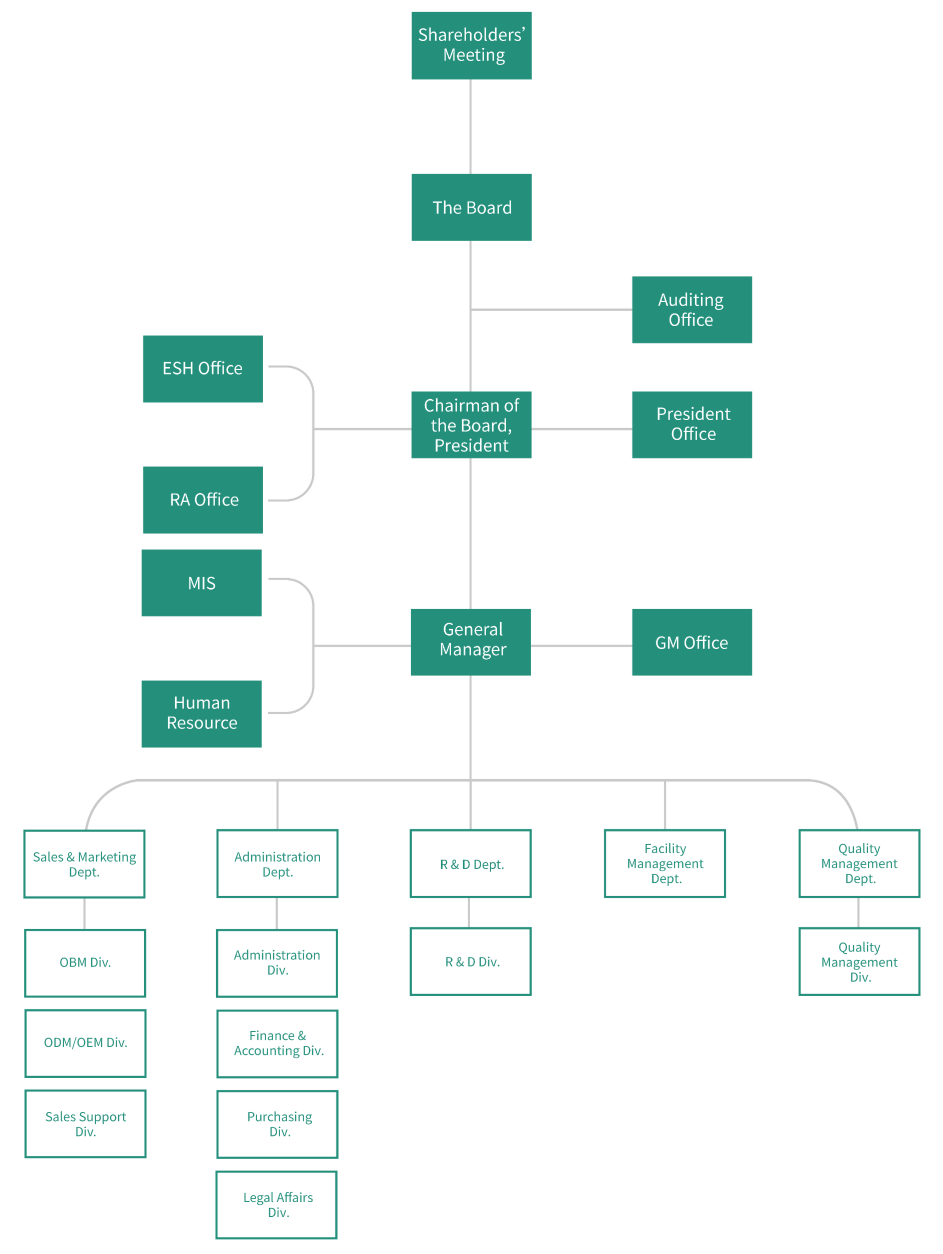 Milestone
1977
Registration for incorporation with authorized capital amounting to NT$1 million
The principal business engagement was the manufacturing, processing and trading of different kinds of medical supplies
1987
Beginning the engineering of gases for medical use and the manufacturing and trading of related instrument and equipment
2004
The stocks listed at TPEx for trading
Offering the 1st issue of domestic unsecured convertible bonds
2011
"Curtain-type medical gas cabinet" products won the 2011 Taiwan Golden Point Design Award for product design category label
2016
Completion of the Tongke Plant
Ranked among the Top 5% in the 2nd Corporate Governance Evaluation
Cited as a Green Purchase Enterprise by Executive Yuan Environmental Protection Administration in 2015
Accredited to ISO 14001 Environmental Management System
2017
Ranked among the Top 5% in the 3rd Corporate Governance Evaluation
Cited as a Green Purchase Enterprise by Executive Yuan Environmental Protection Administration in 2016
Ranked as Little Giants of CommonWealth Magazine's 2017 Excellence in Corporate Social Responsibility Award
Accredited to the Badge of Healthy Workplace in 2017
2018
Ranked among the Top 5% in the 4th Corporate Governance Evaluation
Presented the 2017 Outstanding Performance of Private Enterprises and Organizations in Green Purchase by the Environmental Protection Bureau of Miaoli County Government
Ranked as Little Giants of CommonWealth Magazine's 2018 Excellence in Corporate Social Responsibility Award
Accredited to ISO13485 Medical Device Quality Management System
2019
Ranked among the Top 5% in the 5th Corporate Governance Evaluation
Presented the 2018 Outstanding Performance of Private Enterprises and Organizations in Green Purchase by the Environmental Protection Bureau of Miaoli County Government
Ranked as Little Giants of CommonWealth Magazine's 2019 Excellence in Corporate Social Responsibility Award
Accredited to ISO45001 Occupational Health and Safety Management Systems
2020
Ranked among the Top 5% in the 6th Corporate Governance Evaluation
Presented the 2019 Outstanding Performance of Private Enterprises and Organizations in Green Purchase by the Environmental Protection Bureau of Miaoli County Government
Qualified for Accreditation-Badge for a Healthy Workplace
2021
Relocation of headquarters to Tongluo Science Park
Ranked among the Top 5% in the 7th Corporate Governance Evaluation
Awarded with 2021 Taiwan Golden Root Award
Awarded with 2021 Mother-Friendly Award of Outstanding Excellent Workplace
Received EU MDR Certification
2022
Ranked among the Top 5% in the 8th Corporate Governance Evaluation
PAHSCO Won Nomination Award of the 4th National Enterprise Environmental Protection Awards
Quality certification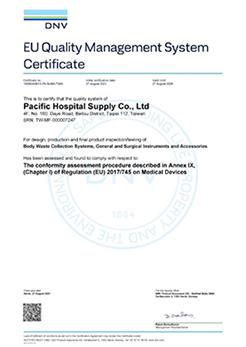 EU MDR
ISO 13485
GMP